General Information
---
PIDSP Journal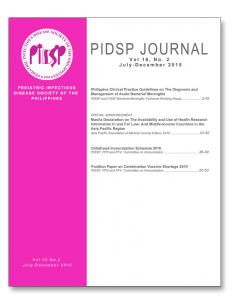 PIDSP Journal (ISSN 2094-3385) is an English, peer-reviewed, medical journal, which is the official publication of the Pediatric Infectious Disease Society of the Philippines. It is an on-line, open-access, freely-available journal featuring articles in the field of child infectious diseases. It is published twice a year and includes original researches, rare case reports, and instructive review articles. Our peer reviewers include international, Asian as well as local experts in Infectious Diseases, Pediatrics and epidemiology. Our society has been publishing the PIDSP Journal for the past 13 years. It was conceived and launched in 1996 to address the need of our medical community for local data on infectious diseases. Since then, the journal has been publishing quality local researches and updates to aid pediatricians in the diagnosis and management of infectious diseases.
Since it is a web-based journal, the articles are accessible to infectious disease members, pediatricians, allied medical professionals, and students for free (no subscription necessary), to different libraries of all PPS-accredited training institutions as well as international medical practitioners. This will ensure a wide coverage and dissemination of articles published.
---
Article Publishing Agreement
COPYRIGHT ASSIGNMENT TO THE PEDIATRIC INFECTIOUS DISEASES SOCIETY OF THE PHILIPPINES (PIDSP) JOURNAL
In order to ensure both the widest dissemination and protection of material published in our Journal, we ask Authors to transfer to the PIDSP Journal the rights of copyright in the Articles they contribute.
Download Article Publishing Agreement Form 
---
Advertisement Disclaimer
This Web site has been developed by the Pediatric Infectious Diseases Society of the Philippines. No commercial involvement of any kind has been solicited or accepted in the development of the content of this Web site. Advertising does not influence editorial decisions or content. The appearance of advertising on the PIDSP Journal Web sites is neither a guarantee nor an endorsement by thePIDSP of the product, service, or company or the claims made for the product in such advertising.
EDITOR-IN-CHIEF:
Cecilia Maramba-Lazarte, MD, MScID
ASSOCIATE EDITORS:
Nancy Bermal, MD
Arlene Dy-Co, MD
EDITORIAL BOARD:
Gyneth Bibera, MD
Mary Anne Bunyi, MD
Elizabeth Gallardo, MD
Jonathan Lim, MD
Xenia Cathrine Fabay , MD
Fatima Jimenez , MD
Nanette Cuady-Madrid, MD
Carmina Arriola, MD
Arlene S. Dy-Co, MD
Maria Estrella Balao-Litam, MD, MBA-H
Belle Ranile, MD
Xenia Catherine J. Fabay, MD
JOURNAL MANAGER:
Rea Uy-Epistola