20th Annual Convention:
Progress, Insights, Dilemmas and Strategies in
Pediatric Infectious Disease: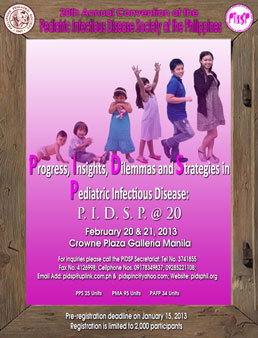 February 20-21, 2013
Crowne Plaza Galleria Manila
Click here to download Guidelines for Abstract submission
Click here to download Abstract form
Click here to download Registration form
Note: CME units for convention
PPS - 25
PMA - 95
PAFP - 34
---
Dear Colleagues,
The Pediatric Infectious Disease Society of the Philippines (PIDSP) will hold its 20th Annual Convention on February 20-21, 2013 at the Crowne Plaza Galleria with the theme: "P.I.D.S.P.@20: Progress, Insights, Dilemmas and Strategies in Pediatric Infectious Disease." Our society would like to invite you, your consultant staff and physicians-in-training to join our research paper contest. Any topic on Pediatric Infectious Diseases shall be accepted. Attached are the rules for submission and an abstract form which you may reproduce if your institution has more than 1 entry.
To encourage participation, the Society would like offer the following:
Free convention registration for the research contest participants who submitted on or before the deadline;
Prizes for the winners are as follows:

1st Prize : PhP 15,000.00
2nd Prize : PhP 10,000.00
3rd Prize : PhP 8,000.00

Winning papers are assured of publication in the PIDSP journal and the author shall give an oral presentation during the PIDSP convention. Other entries will be highly considered for publication.
Publication of their abstract in the souvenir program of the 19th Annual Convention
Deadline for submission is December 15, 2012.
Your participation in this competition is most welcome.
Hope to see you all at the convention.
Sincerely,
(SGD) XENIA JARAMILLO FABAY, MD
Chair, Committee on Poster Presentation
20th PIDSP Annual Convention


PIDSP Officers (FY 2016 - 2018)

President:
Ma. Liza Antoinette M. Gonzales, M.D.

Vice-President
Anna Lisa T. Ong-Lim, M.D.

Secretary
Mary Ann C. Bunyi, M.D.

Asst. Secretary
Ma. Carmen B. Nievera, M.D.

Treasurer
Melba V. Masigan, M.D.

Asst. Treasurer
Mary Antonette C. Madrid, M.D.

Auditor
Nancy N. Bermal, M.D.