19th Annual Convention:
L.E.A.P. towards MDG 4!
(Learning Evidence-based Approaches to Pediatric Infections towards Millennium Development Goal No. 4)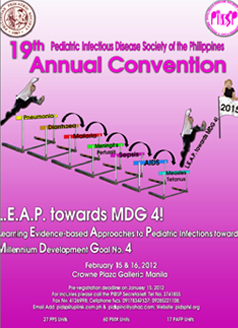 February 15-16, 2012
Crowne Plaza
Click here to download Guidelines for Abstract submission
Click here to download Abstract form
Click here to download Registration form
Click here to download Research Paper Contest
Note: CME units for convention
PPS - 27
PAFP - 17
PMA - 60
---
Greetings to all our colleagues!
On behalf of the organizing committee of the 19th PIDSP Annual Convention, it is an honor to invite you to join us as we embark on another scientific meeting with the theme: L.E.A.P. towards MDG 4! (Learning Evidence-based Approaches to Pediatric Infections towards Millennium Development Goal No. 4)
The Millennium Development Goals (MDGs) are eight international development goals that all 192 United Nations member states and at least 23 international organizations have agreed to achieve by the year 2015. Specifically, goal 4 is to "Reduce by two-thirds, between 1990 and 2015, the under-five mortality rate. Sadly, 68% of these deaths are due to infectious diseases such as pneumonia, diarrhea, malaria and some 41% of deaths occurred in neonates.
With PIDSP being the expert society in childhood infections in the Philippines together with you as partners, it is time to take up the cause in reducing the top causes of death amongst our Filipino children. We have invited impactful international and local experts who will discuss the latest scientific evidence based information to empower every paediatrician in managing and preventing these top infectious diseases. We plan to implement a thematic approach, with a challenge for every member of the audience to commit himself/herself towards achieving MDG no. 4.
We hope to see you all in February 2012!
With warmest regards,
Nancy Nazaire-Bermal, MD
Over-all Chair
19th PIDSP Annual Convention


PIDSP Officers (FY 2016 - 2018)

President:
Ma. Liza Antoinette M. Gonzales, M.D.

Vice-President
Anna Lisa T. Ong-Lim, M.D.

Secretary
Mary Ann C. Bunyi, M.D.

Asst. Secretary
Ma. Carmen B. Nievera, M.D.

Treasurer
Melba V. Masigan, M.D.

Asst. Treasurer
Mary Antonette C. Madrid, M.D.

Auditor
Nancy N. Bermal, M.D.